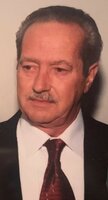 H. Frederick Nitschky
H. Frederick Nitschky, age 77, passed away Friday, December 2, 2022. He was born in Bay City on April 30, 1945 to the late E. Clark and Sara (Ellis) Nitschky Sr. He enjoyed golfing, fishing, hunting, motorcycle rides, playing solitaire, and spending time with family and friends. He retired from ConRail after 30 years of service.
He is survived by his children, Wesley (Jaclyn) Nitschky of Telford TN, Christine Clark of Bay City, Shannon (Mark) Alderton of Bay City, Chad (Tabatha) Nitschky of Essexville; 4 step-children; 15 grandchildren; a great-granddaughter, Aria Mechling; a brother, Patrick (Camille) of Midland; and many nieces and nephews. He was predeceased by his brothers, Harold, George Stevenson, and Clark Nitschky; a sister, Lynne Tyrrell; and step-son, Christopher Curtis.
A Life Celebration will be held on Friday, December 9, 2022 from 4 – 8 pm, at the Hyatt Ewald Funeral Home, 700 N. Monroe St., Bay City, MI 48708. Those planning an expression of sympathy are asked to consider memorial contributions to the Wishes of the Family or to the Toni & Trish House. To sign online guestbook, visit www.hyattewald.com Arrangements made with the Hyatt Ewald Funeral Home.