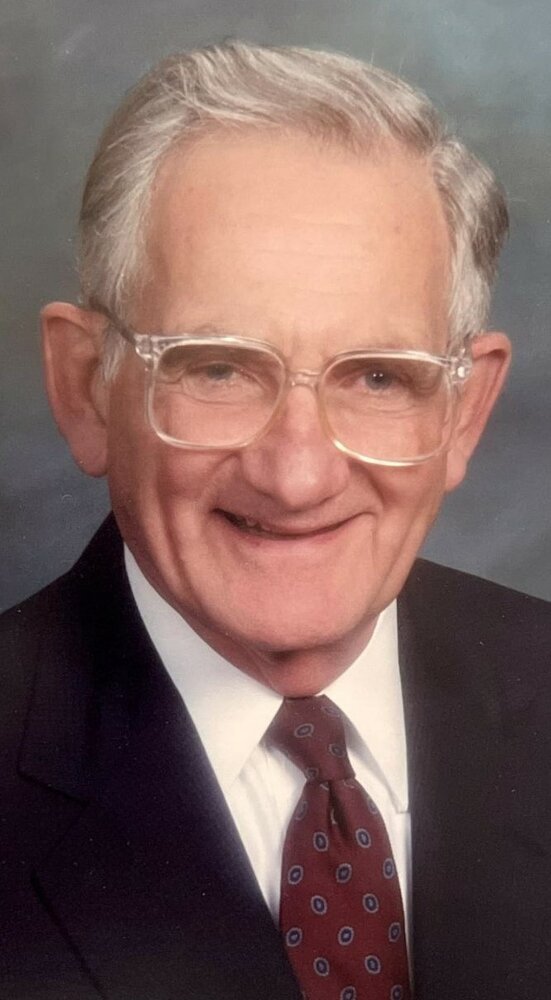 Obituary of Albert John Koegel
Please share a memory of Albert to include in a keepsake book for family and friends.
Albert John Koegel
God, family, business, community, fun. Words, in that order, which Albert J. Koegel strove to live by.
He was born on August 14, 1926 in Flint, Michigan to Anna and Albert Koegel, immigrants from Germany. At age two he toddled across the street to meet a newborn baby, Barbara Lee Gerholz, who would later become his wife. He said the infant girl met with his approval.
Albert attended St. Paul Lutheran School through 8th grade. In high school, at Culver Military Academy he was a proud member of its Black Horse Troop. Years later, on a Montana trail ride, he surprised everyone with how quickly and expertly he could saddle a horse.
After graduating high school, he returned to Flint to attend Flint Junior College.
He was able to explore the world when he served for two years on a ship in the Merchant Marines, acting as its purser and pharmacist's mate.
Upon returning to Flint from the Merchant Marines, he decided that he more than "approved" of the girl from across the street because in 1950 they married. Last year they celebrated 71 years of marriage. Albert and Barbara's early years of marriage were spent in Ann Arbor while Albert earned his MBA degree from the University of Michigan.
When Albert found out that his two years of service with the Merchant Marines did not count towards his selective service requirement, he joined the U.S. Army and served as a first lieutenant in Korea during the Korean War.
Following his service in the Army, he began working at Koegel Meats, a business started by his father in 1916. He worked there tirelessly for decades. At his 90th birthday luncheon, he said to the employees, "I was told when I turned 90, I wouldn't need to work a full day any longer. So, I think I am going to go home this afternoon for a nap."
Albert loved work and always wanted to be productive, whether at the office, at home, at the family cottage on Higgins Lake, or for the community. He performed the tasks he undertook with cheerfulness.
He was very active in the community. His public involvements included serving as treasurer of the Flint Children's Museum, the Flint Institute of Music, the Board of Trustees of Mott Community College, Flint Community Players, and First Presbyterian Church of Flint. He was the treasurer and president of Flint Planned Parenthood. He was also a member of the Finance Committee for Mott Children's Health Center, the Flint Rotary Club, and the Genesee Regional Chamber of Commerce.
For many years he donated blood every eight weeks and was proud to have donated 198 pints of blood.
At age 81 he walked 10 miles in the Crim. It was his dream to walk the Crim at age 90, a goal he accomplished – while singing.
Albert J. Koegel loved to sing -- when driving north; while snow skiing; after a day of trout fishing; when alone; with his buddies or his kids and grandchildren. Even at the office he would break into song at times. He was in the First Presbyterian Church of Flint choir for over 50 years. Was it a hymn, a Broadway showtune, a family camp song, a love song, or a German drinking song? It didn't matter. Each song was given its own enthusiastic rendition.
He was the consummate snow shoveler, with a shovel for each type of snow. He never wanted to use a snow blower or have his driveway plowed because the "edges wouldn't be neat enough." There were many nights the family was fast asleep while Albert continued his rhythmic snow shoveling, and whistling.
He died peacefully at home, with family members present on August 24, 2022. Albert was preceded in death by his parents; his wife, Barbara; his sister, Elizabeth (Libby) Koegel Neithercut and her husband, Edward Neithercut.
He is survived by his children and grandchildren: Anne and her husband, Jeffry Rocco, and their daughter, Andrea Rocco; Kathryn Koegel; Jane Koegel; and John and his wife, Lisa Koegel, and their children, Katlyn, Chloe, Carson, and Cameron Koegel.
Angels, get ready, Albert is enthusiastically looking forward to singing in the angel choir! To sign online guestbook, visit www.hyattewald.com Arrangements made wtih the Hyatt Ewald Funeral Home.
***
Cremation has taken place.
***
Visitation
Thursday, September 1, 2:00 PM – 7:00 PM
Sunset Hills Cemetery, G-4413 Flushing Rd. Flint, MI
***
Visitation
Friday, September 2, 10:00 AM
Funeral service 11:00 AM
First Presbyterian Church of Flint, 746 S. Saginaw St., Flint, MI
***
Private burial of ashes in Sunset Hills Cemetery
In lieu of flowers, contributions may be made to:
First Presbyterian Church of Flint
Flint Institute of Music
YMCA of Greater Flint
To send flowers to the family or plant a tree in memory of Albert Koegel, please visit Tribute Store


Share Your Memory of
Albert